Kids learn and grow here!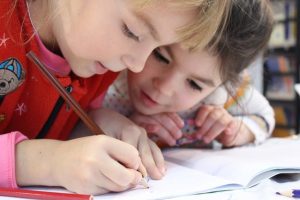 Visit the children's section at the library, a comfortable place to read and play.
Programs
Join us for Story Time! Children, infants through preschool, and their grown ups will meet Wednesdays at 10:30 am for stories and reading games.
Don't miss our Summer Reading Program in June. This year's theme is Libraries Rock! 
Technology for Kids
We have three Kidz Computers filled with fun and educational games.
Books and More
We have books, audiobooks, and DVDs for all ages.
Instantly download books for kids and teens at OK Virtual Library. You'll need your library card number to sign in.
Sequoyah Books
Oklahoma students select the winners of the Sequoyah Book Awards. Students and young library patrons who have read three or more titles on their 2018 Sequoyah Masterlist are qualified to cast their votes.
Vote for your favorite Sequoyah books from February 1 to March 15, 2018. 
The first Sequoyah Children's Book Award was given in April, 1959, making the award the third oldest children's choice award in the nation. With this award, Oklahoma honors the Native American leader Sequoyah, for his unique achievement in creating the Cherokee alphabet and preserving his people's language and culture.
Keep track of your Sequoyah books:
Children's log    Intermediate log    High School log